Sheena, female Boxer mix, was brought to the Humane Society of Macomb Animal Shelter as a stray on September 28. Sheena was estimated to be about a year old by our staff.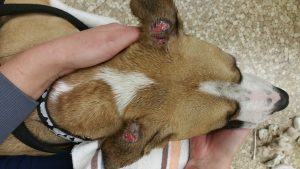 Upon arrival at the shelter, employees noticed large sores on Sheena's ear flaps. Sheena was examined by a doctor, who determined the ear sores were a condition called "fly strike".
Fly Strike typically occurs when an animal spends an extended period of time outdoors. It is caused by flies, which feast on animals' blood through bites. The fly is attracted to the dog's ears in particular, as the tissue and fur is thin in this area. The flies begin to bite the dog's ears, causing irritation. The irritation spreads as the flies bite, leaving open sores and causing pain for the dog.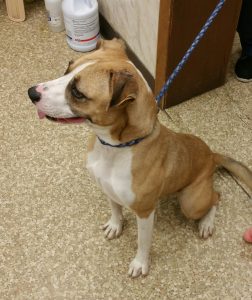 In a short period of time, dogs can easily sustain hundreds of fly bites. While all ears are tasty in the eyes of flies, ears that are infected can draw more flies. Because of this, Sheena's ears were tested for infection. A cytology of the ears indicated a bacterial infection, so her doctor placed her on an antibiotic ear ointment.  She also was placed on oral antibiotics to prevent infection of the ear flaps.
While it is difficult to control flies in the area, there are topical treatments that can be applied to the ears to prevent the flies from biting. Your veterinarian can recommend a treatment that will be safe and effective for your dog.
As Sheena was intact, she was spayed at the Humane Society of Macomb Animal Clinic, and received all of her recommended vaccines.
Sheena's ears have greatly improved since her arrival at the shelter, and she is now available for adoption. Sheena has a lot of energy, and will need a family that can provide a lot of exercise. Sheena is also extremely affectionate, and will show her appreciation through lots of snuggles and kisses.
Visit Sheena and all of the other adoptable animals at the Humane Society of Macomb Animal Shelter!