Michael Wilkie, a veteran of the mortgage industry and passionate animal activist to lead the organization into the future.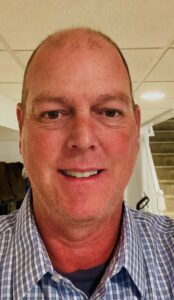 Utica, MICH. –The Humane Society of Macomb announced today that they have a new executive director, Michael Wilkie.
Michael joins the Humane Society of Macomb from a 27-year career in residential mortgage operations and 21 years leading teams.
"I am excited to embark on a new journey as the director of the Humane Society of Macomb.  I look forward to applying the leadership and team-building skills I acquired throughout my career," said Michael Wilkie. "I am confident these skills will allow me to take the Humane Society of Macomb to the next level and benefit more animals, families, the community, and team members."
The Humane Society of Macomb, under the leadership and direction of Kenneth Kempkens, the former shelter director, has become a no-kill shelter focusing on ensuring that all adoptable animals have a chance at finding their furever homes.
Resources are what have limited the ability of the Humane Society of Macomb to assist more animals, and the need is great. Michael was selected not only for his leadership skills and his passion for animals but also for his ability to work with the community to secure resources for the organization.
"We are excited to embark on this new chapter and look forward to the fresh perspective that Michael will provide to the organization," said Kenneth Kempkens, former shelter director and Board Member, "While his background in the mortgage industry and not animal care may surprise some, it is his ability to lead and listen to those with animal care experience and expertise while looking at situations with a fresh perspective that will carry the Humane Society of Macomb into a bright future where all adoptable animals are given a chance to find their furever homes."
The Humane Society of Macomb is a fully independent non-profit and not associated with any other organization and is solely supported by the generous contributions of the community.
About the Humane Society of Macomb
The Humane Society of Macomb was chartered in the mid-1950s and opened its doors in May 1967. Since then, they have made it their mission to help those who cannot speak for themselves. They do this through
Providing humane care for unwanted, abused, and injured animals
Preventing animal cruelty
Placing adoptable pets into good, permanent homes with responsible owners
Promoting spaying and neutering to prevent overpopulation
The Humane Society of Macomb is a private, non-profit 501c3 charitable, private organization governed by a Board of Directors and supported by the public.