One of the biggest priorities at the Humane Society of Macomb Animal Shelter is ensuring that every pet that walks through its doors receives proper care, from housing and food to medical care under the direction of an on-site doctor.
A young Pitbull mix entered the shelter in March as a stray. She was estimated at 2 years of age, and the staff named her "Scarlette."
It was clear Scarlette was going to need special attention. In addition to her extreme nervousness, Scarlette's ears were extremely swollen, and the flaps looked like little pillows. The on-site veterinarian diagnosed Scarlette with ear hematomas.
Ear h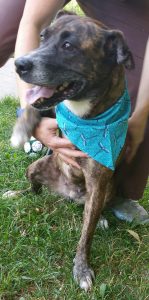 ematomas are usually caused by problems in the ear canal. Issues such as ear infections or foreign objects in the ear canal can lead to irritation to the ear, causing the animal to shake its head. As the head-shaking continues, blood vessels near the cartilage of the ears begin to break, releasing blood and fluid into the ear flap and causing swelling of the ear flaps.
Treatment of ear hematomas ranges from medication and monitoring the patient while the ears heal themselves, to surgery. But determining what caused the hematomas is vital to properly treating them.
In Scarlette's case, the hematomas were a result of an infection in both ears. Signs of ear infections include redness, debris, and odors in the ears. Scratching of the ears, tilting of the head and shaking of the head can also be signs of an ear infection. If suspected, ear infections need to be treated immediately, as they can be extremely painful for an animal, and can become quite severe.
By looking at a sample of the ear canal debris, the doctor will determine what type of infection your pet has, and develop a treatment plan to remedy the infection.
Preventing ear infections isn't always possible, but steps can be taken to reduce the risk of infection. Wiping out your pet's ears with cotton balls and using a cleaning solution with drying agents after your pet swims or bathes can reduce moisture within the ear that can lead to infection.
Regular check-ups with your pet's veterinarian can help detect ear infections quickly. Chronic ear infections can have other causes, and the veterinarian can determine whether the pet should also be under treatment for conditions such as allergies.
Thanks to prompt treatment of her ear infection, Scarlette is comfortable again. Though the hematomas have resolved, her ears will be uniquely shaped for the rest of her life due to scarring.
Scarlette has come such a long way since March. Upon arriving at the shelter, she hid in the back corner of her cage, cowering when anyone approached her. But thanks to the efforts of patient and kind shelter employees who worked with her daily, Scarlette now looks forward to visitors, and loves to be snuggled.
UPDATE: Scarlette has found her furever home! She was adopted on August 1, 2016.