For the month of August, we are highlighting Ariel Radtke as our Humane Hero of the month.
Ariel was nominated for her extensive volunteer and sponsorship work that she does with shelter animals.
About Ariel Radtke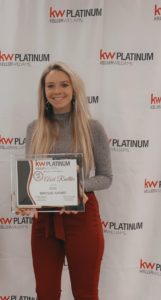 Ariel is from Macomb, MI. She's currently working as a Realtor with Keller Williams Platinum.
Ariel has a special thing she does when she's able to close a home. "Every time I close a home, I sponsor an animal at the HSOM," Ariel said.
She owns several pets including: a Ball Python, two cats, and three dogs. She has had one of her dogs (Marley) for as long as 8 years and one of her cats (Enzo) for as long as 7 years.
How Ariel Got Started Helping Animals
When asked about how she got started helping animals, Ariel said, "I've always had a love for animals and in 2013, my family adopted a Pitbull puppy named Milo."
Milo helped her to learn how to care for animals. "I was at the age where I could help train him and really understand the care that goes into taking care of an animal," Ariel said.
From there, she started learning and volunteering at shelters near her college every week.
"I started to educate people on bully breeds and how amazing they can be," Ariel said.
Interest in Helping Animals
Ariel developed an interest in animals after helping bully breeds have a voice and other animals in the shelter. She developed a passion to show people how amazing these dogs can be.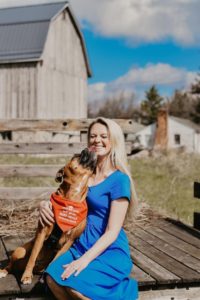 "The amount of cats and dogs that are in shelters and don't get out is devastating. If I can make that animals day a little brighter, then I feel like I made a small change in their life," Ariel said.
She didn't stop there. Ariel also started educating people on what force free, fear free positive reinforcement training is and how beneficial it is.
She's even super passionate about mental health in shelter dogs and educating people on that.
Helping Animals
As of today, she has been helping animals for 8 years and she's still volunteering. She has been volunteering with the Humane Society of Macomb.
" I love helping with shelter school, I sit on the board for Teachers Pet, and love helping teach positive reinforcement dog training," Ariel said.
At one point, she did an internship through Leader Dogs for the Blind in college working in their puppy prison program.
When Ariel has time, she also loves traveling to the largest no-kill shelter in the country: Best Friends Animal Sanctuary in Utah to volunteer with them.
Ariel also just recently started fostering kittens too!
Current Goals
Ariel has quite a few goals in mind, but she would like to get more involved with the criminal justice system with inmates and shelter dogs.
"My degree is in Criminal Justice and I have worked in prisons around Michigan and job shadowed a rescue that is based in a jail," Ariel said. During that time, Ariel said the inmates there took care of the shelter dogs 24/7.
At one point, Ariel also helped Teachers Pet start a program over at Oakland Animal Shelter where she helped teach the trustees about dog training and educated them on dog body language and more.
She would love to get a program started at a local prison where she can blend these two worlds together.
Biggest Accomplishment
When asked about her biggest accomplishment, Ariel said, "My biggest accomplishment I think was helping to start a trustee/volunteer program at Oakland." This same program has now been brought to the Humane Society of Macomb as well.
She considers this to be a big accomplishment because the more people she can help reach with education and training, the better off the shelter dogs will be and hopefully they will get adopted quicker.
"It makes me so proud and excited to see others get excited for the little moments these dogs have. At the end of the day, we just want the dogs to get into good homes, and by teaching people about bite safety, body language, positive reinforcement, and enrichment, these dogs have a huge chance at getting adopted," Ariel said.
Ariel's Most Memorable Moment
"Glenda was the dog that changed my life here," Ariel said.
At the Humane Society of Macomb, Glenda was the first dog she got a chance to work with that truly challenged her. Glenda made her want to be a better dog trainer and an even better advocate for dogs with mental health issues.
Glenda was Ariel's dog she worked with while in shelter school. "She honestly is one the dogs that I'll remember forever," Ariel said.
Future Plans
In the future, Ariel wants to keep closing homes, so she can keep sponsoring more animals.
"I want to keep advocating for these animals," Ariel said.
Right now, she is focused on continuing to make Teachers Pet training and shelter schools even better.