Do you love heartwarming stories? Our shelter is full of them after this years BISSELL Pet Foundation's Summer Empty the Shelters Event. The Humane Society of Macomb is thrilled we had the opportunity to participate in this record-setting adoption event, and we are excited to share these rescues' tails of hope! 
Our shelter participated in BISSELL's event from July 11 through July 31. During this time, 24 of our rescues found forever homes! We wanted to share a few of their stories.   
Midnight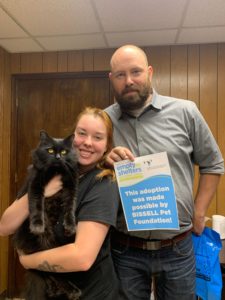 Meet Midnight. He tested positive for Feline Leukemia Virus (FeLV) and struggled to find a home. This sweet guy is now living large with his new family thanks to BISSEL's event. He might seem unimpressed in the photo, but do not let his smug little face fool you!  
Dresser Drawer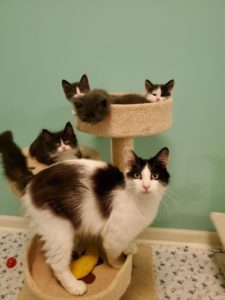 Dresser Drawer is a unique name, but she is one special cat! This fantastic mom lived in a dresser drawer with her tiny kittens until someone discovered her and brought her to our shelter. Once we verified her family was healthy, Dresser Drawer and her kittens found their FURever homes.  
Louie and Bagel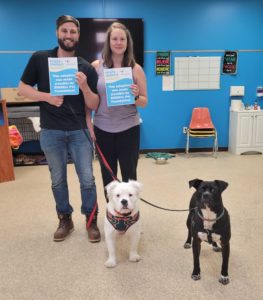 Talk about two peas in a pod! Louie and Bagel are best friends and support each other. Bagel is exceptionally nervous but feels comfortable with Louie at his side. Thanks to BISSELL's event, they were adopted together!  
Genevieve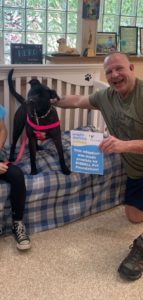 At a little over a year old, Genevieve spent a substantial amount of her young life in our shelter. She has been with us a little over 20 weeks (about 4 and a half months)—but now she has a family of her own!  
Bubbles
Sweet Bubbles is another long-term shelter resident who was adopted! It took 22 weeks (about 5 months), but now she has a loving home.  
Heath, Oreo, and Silver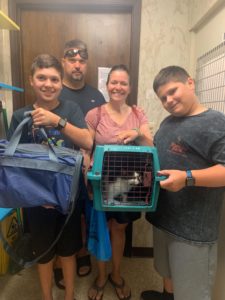 An honorable mention goes to Heath, Oreo, and Silver! The same family adopted this trio, and now they have built-in playmates. 
Whether you adopted one of our rescues or shared one of our social media posts during this event, you made an enormous impact! Thank you for your continued support. 
Did you miss our participation in BISSELL Pet Foundation's Summer Empty the Shelters Event? Not to worry; we still have loveable rescues searching for their FURever home. 
Please enjoy this gallery of the new family photos taken during the event!