Looking out for the welfare of animals is a priority at the Humane Society of Macomb Animal Shelter.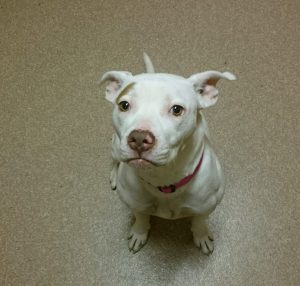 Pinky, a 1-year old Pitbull Terrier mix from Detroit, was brought to the Humane Society of Macomb Animal Shelter on October 31 by a concerned volunteer. The dog was being housed outdoors in frigid temperatures, and had given birth to a litter of puppies, which she was caring for at that time. The volunteer talked to Pinky's owner and convinced him to allow HSOMAC to spay to prevent more litters from being born into unsafe conditions. Pinky would then be returned to her owner with the understanding she would be housed indoors.
Pinky had skin issues, and her puppies were severely underweight and also had skin issues. All three received the care they needed, including antibiotics, and the puppies were brought to a healthy weight. Pinky was heartworm tested and all three dogs received vaccines, stool checks and dewormer.
On November 12, after she was spayed, Pinky went back to her owner who promised to keep her indoors. However, when a volunteer checked on Pinky a few weeks later, she found Pinky was being housed outdoors again.
The Humane Society of Macomb decided Pinky needed to be returned to the shelter, and made several offers to buy Pinky from her owner. The shelter staff knew Pinky needed to be properly cared for, and was persistent in their attempt to bring Pinky back to the shelter. The owner finally accepted an offer, and Pinky was returned to the warmth of the shelter on December 15.
Pinky is adjusting well to her new life, and is waiting for her forever home. Her puppies were placed into loving homes as well.
Providing loving care for all animals is the primary goal at the Humane Society of Macomb Animal Shelter, as demonstrated by Pinky's story.