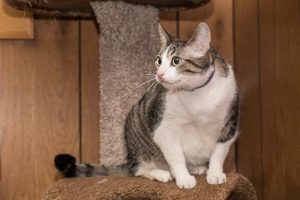 The Humane Society of Macomb is excited to announce that one of our cats, Little Foot, was adopted.
Little Foot was brought into our shelter in need of a new furever home. Her family had just moved and were no longer able to care for her and her other siblings. It wasn't long until all of her siblings were adopted, leaving her behind.
Having spent five years of her life living in a home, she had a difficult time adjusting to life in a shelter. After six months at the shelter, she began showing signs of stress.
Little Foot became selective about who she allowed to interact with her and developed new eating habits. She earned a new nickname, Big Foot, because she would do almost anything for a cat treat.
Due to Little Foot's stress levels and need for a patient owner, she was constantly being overlooked.
One of our certified cat trainers worked with Little Foot and made her an official Humane Society of Macomb office cat for a couple months. This allowed her to become more comfortable with new sights and smells. And more importantly, she learned to interact with new people.
Little Foot began to gain the trust of the staff, and soon enough, a patient and understanding family came along. This family had experience with cats that were harder to work with and were looking for a new cat.
Thanks to our cat trainer and staff support, Little Foot learned to trust others again and is not thriving in her furever home.