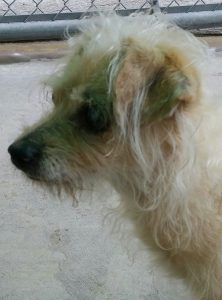 An animal's cheery personality can sometimes hide medical issues lurking beneath the surface, as a sweet terrier mix named Goldie demonstrated.
Goldie was brought to the shelter on July 9, after being found wandering in the street. Goldie was examined by the staff doctor upon arrival. The doctor estimated Goldie to be around 10 years old, and noted that she was underweight, and had cataracts in both eyes. Cataracts are a clouding of the lens of the eye that can lead to blindness.
Since arriving at the shelter, Goldie has had a very healthy appetite, which didn't explain her thin body build.
Goldie was taken to the Humane Society of Macomb Animal Clinic for diagnostics, which included bloodwork and a fecal sample. The bloodwork showed that Goldie had diabetes, which was the cause of her cataracts and was the main cause of her weight loss. The fecal sample showed that Goldie had hookworms, an intestinal parasite that can cause diarrhea and may have contributed to her weight loss.
Diabetes is an inability of the pancreas to regulate blood sugar levels. This causes a spike in blood sugar, which can cause increased appetite, urination and thirst, as well as cataracts and weight loss. Once diabetes is confirmed by a blood test, the pet can be placed on insulin, which is a drug that helps the body regulate blood sugar levels. Depending on bloodwork results, the amount of insulin the pet needs can be adjusted.
Upon her diagnosis, Goldie was placed on insulin, and blood tests were done regularly to monitor how her body was responding to the insulin. She also received medication to eliminate the hookworms.
Goldie will continue to have her blood sugar levels checked. Because of the special care she will need while her levels are being regulated, she was placed into foster care with a rescue organization until she is ready for adoption.
Though she is completely blind due to the cataracts, she is still able to enjoy life. She uses her other senses to guide her as she walks, and is happy to greet people who visit her.
Goldie is expected to have a great quality of life, although she will require insulin injections twice a day for the rest of her life.
The Humane Society of Macomb Animal Shelter is dedicated to ensuring wonderful pets like Goldie find the perfect home. Come see all of the pets available for adoption at the shelter today!