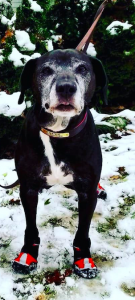 At the Humane Society of Macomb, we witness many occasions where stray dogs are brought to us with desperate need for care.
As you can probably imagine, it's not always easy nursing a stray dog back to health.
With our dedicated staff, we take pride in giving stray dogs the care they need to be adopted into furever homes.
When we met Charlie, we made sure we did just that.
Charlie came to us as a senior stray dog.
If you don't know much about stray dogs, there's a couple of things you need to do when they're in your care.
For one thing, it's important that we check strays for tags and microchips if they have any.
If so, we will be able to contact the owner and hopefully reunite the stray with its owner.
Unfortunately, in a lot of cases, strays go unclaimed by an owner.
We must also medically assess strays like Charlie for any illnesses, diseases, and infections.
One of the things we tested Charlie for was heartworm disease, which can be fatal if left untreated.
Heartworm disease is caused by the bite of a mosquito carrying the disease.
Just as its name implies, this disease leads to the presence of worms in a dog's heart, lungs, and nearby blood vessels.
When we conducted a blood test on Charlie, he tested positive for heartworm disease.
We also noticed that he was suffering with arthritis.
We then began treating Charlie's heartworm disease and provided him with pain medication to comfort his arthritis.
With the support of our staff, Charlie recovered and was adopted on July 11, 2018. He was adopted by a family that had just lost their senior dog to natural aging.
We are happy to say that Charlie now enjoys a life of love, comfy beds, snow boots, the best treats, and plenty of adventures. He even recently completed his last nose work class.