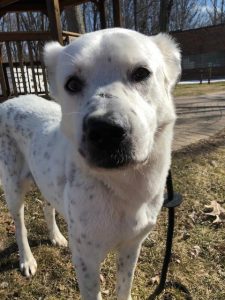 In case you didn't know, we were featured in a news article on MLive a year and a half ago.
We teamed up with other shelters to foster and care for many rescued animals who lost their homes from the hurricane that hit Texas in August 2017.
Around that time, we welcomed at least 50 homeless dogs from Texas.
Carly is one of the 50 homeless dogs from Texas that was transferred over to us and treated in our shelter.
When we met Carly, we assessed her for any diseases and illnesses.
Our staff used a blood test and tested Carly for heartworm disease.
Unfortunately, she tested heartworm positive, which can be fatal if left untreated.
Dogs can contract heartworm disease through the bite of a mosquito carrying the disease.
Just as its name implies, heartworm disease leads to the presence of worms in a dog's heart, lungs, and nearby blood vessels.
Fortunately, we were able to catch Carly's heartworm disease within enough time to give her proper treatment.
Carly is one out of 13 dogs that successfully completed heartworm treatment in our shelter last year. Another one of our previous shelter dogs, Charlie, also completed heartworm treatment last year and made a full recovery.
Heartworm treatment options can include medications such as antibiotics, steroids, and monthly preventative injections.
Our dedicated staff took all the time necessary to help Carly complete treatment and she was able to make a full recovery from the disease.
We are happy to say that Carly was adopted and found her furever home on April 9, 2018.