We proudly participated in the Bissell Pet Foundation's Empty the Shelters Adoption Event from May 2 to May 15. Today, we wanted to give you a behind-the-scenes look!  
Thanks to our phenomenal adopters, 27 animals (10 dogs, 17 cats) found new, loving homes. Among these were Star, Bailey, and Knuckles—all of whom were long tenure stays. So, they finally have a place to call home!  
Suerte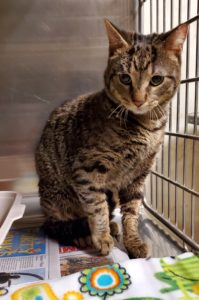 Suerte was one of the special boys who found a home during the Bissell event. He has been through quite a few changes recently. First, this little guy survived a house fire; then, he found himself in an unfamiliar environment at our shelter. Suerte was lucky to escape relatively unscathed—he came to us with a few singed whiskers and minor burns on his paw pads.  
When Suerte arrived, he was (understandably) shy and nervous. But, thanks to dedicated staff members—like Siara—Suerte soon left his shell and healed enough to be adopted.
Suerte is genuinely a friendly sweetheart, he just has a resting angry face!
French Vanilla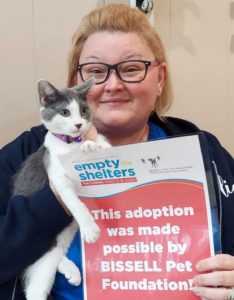 Another heartwarming adoption story from this event is that of French Vanilla. This little kitten is a fighter and is doing well in her loving home!  
French Vanilla was born with a severe heart murmur. This heart murmur may be a congenital heart defect, but it is hard to tell until she is older. As a result, she may need surgery later in life or have a shorter life span.  
However, this does not mean she is any less sweet, fun-loving, and deserving of a FURtastic home. We are excited to see how well she does in her new home!  
Did you miss this Bissell Pet Foundation's Empty the Shelters Adoption Event? Stay tuned! We plan to participate in future events. 
This event may be over, but we still have adoptable animals searching for their FURever home. Follow the link here —you may even meet your new best friend!
Please enjoy this gallery of the new family photos taken during the event!