On November 1st, the Humane Society of Macomb was awarded Charity Navigator's 4-star rating for demonstrating strong financial health and a commitment to accountability and transparency.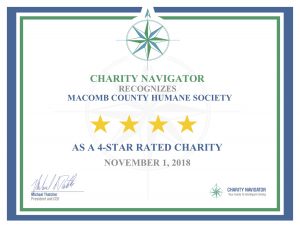 According to Charity Navigator, a 4-star is the highest rating given. Only a quarter of the registered nonprofits evaluated by Charity Navigator achieve this 4-star rating distinction.
Being given a 4-star rating means that the Humane Society of Macomb
Adheres to sector best practices, such as providing shelter, food, water, space, and prevention of and treatment of diseases
Demonstrates trustworthiness to the public
Exceeds industry standards and outperforms most other charities in our area of work
Executes our mission financially efficient way
"It has been a long ride going from a zero rating to finally hitting a 4 rating with Charity Navigator," President and Shelter Director Ken Kempkens said. "Thank you to all those who helped us achieve these results- our Marketing Department headed up by Kendra Corman of H2H Consulting who set the course, John Gideon of Buss and Company, CPA's who helped with our financial reporting, Vickie Castiglione, our Administrative Executive, who provided the necessary information and, of course, you, the public, that have donated to us over the years. We can now proudly display a symbol on our web page of the Charity Navigator status."
Charity Navigator was founded in 2011 and is currently the largest charity evaluator in the United States, evaluating over 9,000 charities and providing basic information for 1.5 million nonprofits each year. They evaluate charities based on their finances, accountability, and transparency.
To check out the full report by Charity Navigator, click here.